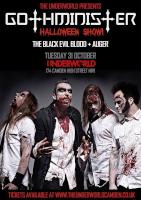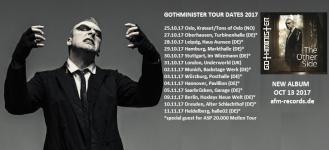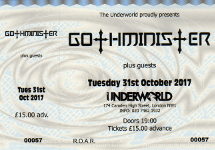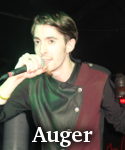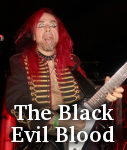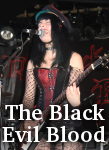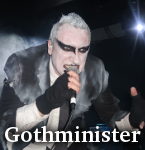 I'd never heard of Auger before tonight's show, but I found myself really enjoying their set. The band consists of a guitarist and a keyboard player, both of whom contribute to the vocals. They play what I guess could be described as industrial metal mixed with darkwave over electronica. Whatever you choose to call the genre, it worked really well. If I had a slight criticism, it would be that they were trying too hard with the vocals. They might be better off just singing, rather than going for the low pitched vocals, which work much but not all of the time, and felt a bit forced.
I'd never heard of The Black Evil Blood either, but they were nowhere near as entertaining as the openers. They started out playing bluesy doom metal, which was a bit out of place for this lineup, but not terrible. But as the set progressed, they introduced more and more wierd elements to the sound, such as interspersing female black metal vocals, and for me it just didn't work. They describe themselved as death 'n' roll, but I'm not sure that's really accurate. They weren't helped by having a very sloppy guitarist and bass player, something that remained true when they swapped instruments mid-set.
So on to Gothminister then. I'd discovered them many years earlier at one of the Gotham festivals, but they'd dropped off my radar and I was unaware that the band even still existed. When I saw this show organised, I knew I had to get a ticket to see if they were as good as I'd remembered. That answer is that yes, they were. I can't recall exactly what they sounded like back in the day, but these days they're solidly in the industrial metal camp, and it works well. They sound a bit like a mix of Rammstein and Die Apokalytischen Reiter. Highlights would be the opener, "Ich will alles" as well as "Utopia" and "Dusk Till Dawn". Definitely a band I'll go and see again when they're next in these parts.