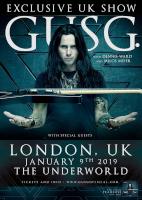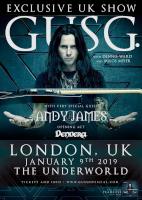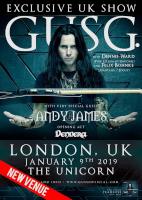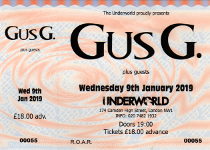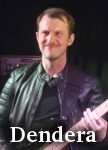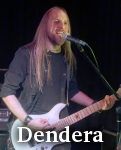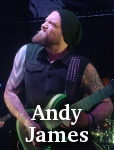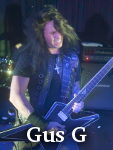 Dendera opened things up in style. They really are a band that are going from strength to strength these days. Their opening track, "Awakening", was ideal for a guitar focussed lineup like this. One might be tempted to think they'd picked it specifically for the occasion, but they've been opening with it for a while now, and it was just a handy coincidence. Going straight from that into "Final warning" and "Claim our throne" made for a very strong opening, and by the time they got to "Blood red sky", it was clear this was going to be another outstanding performance.
I've seen Andy James before, both solo and with Sacred Mother Tongue. As before, it's clear that he's a very, very talented guitarist. For a fan of such things like me, an hour of instrumental shredding should be ideal. But it just doesn't work. Shredding is fine, but it needs to be in the context of a song. James does that, but for my tastes, I find that the songs he uses just aren't strong enough. There's too much Vai-like mellowness for my tastes, where I'd prefer something a big more aggressive.
Gus G, on the other hand, had the shredding but the songs were much better, resulting in a better overall performance. It helped having the fantastic Felix Bohnke on drums, who I've long felt was a very underrated drummer. Throw in a couple of covers in the form of Thin Lizzy's "Cold sweat" and Dire Strait's "Money for nothing", and a great end to the night in the form of "The quest", and it all made for an enjoyable set.