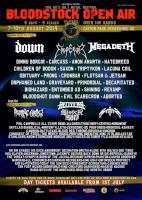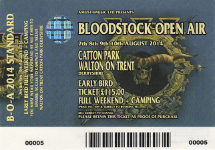 Goat Leaf kicked off the first day of Bloodstock proper with a solid set of fuzzed up stoner rock, which was pretty decent. On the Sophie stage, Gurt should have delivered much of the same, but although the music was there, the vocals were almost black metal style shrieks over the top, which was just a bit odd and for me detracted from the experience. I'd seen Bloodstock Dawn a couple of times before and while they were OK, I'm not really sure they deserved bumping up to the main stage having played on the Sophie stage last time around. The music was good enough. I guess I'd describe it as technical thrash. But the growled vocals would have been much better if they'd just been ratcheted down a notch to something closer to more traditional thrash.
The oddly named Convincing Clearity were winners of the Norwegian M2TM competition and it's hard to believe that a country with such a strong metal heritage couldn't have done better than this. It was just generic modern metal with shouty vocals and little to make them stand out from the crowd. Although they're not really my thing, Cambion had impressed when I last saw them. Here, though, the weaknesses showed through. The music was tight and technical, but it was let down by the vocals, both in the clean and harsh parts, neither of which were really good enough. I hadn't enjoyed Entombed much on either of the previous occasions that I'd seen them. Since then the band had gone through an acrimonious split and both halves initially tried to keep the name. One half eventually settled on the Entombed AD name and that's the half that was playing here. To be fair, I think they genuinely were better than before, but still not really my thing. Uninspiring death metal but a least the vocals were largely intelligible.
The last time Primordial had tried to play Bloodstock, it had all gone disastrously wrong with Alan losing his voice part way through the second song and being unable to continue. Fortunately, there were no such problems this time. The band play celtic influenced black metal, but with clearer vocals than is the norm for the genre and it works very well. In some ways, they remind me of the new wave of atmospheric folk black metal bands, although they predate those bands by several years. Either way, it was a good performance and I'll gladly go out of my way to see them again should they be playing in or around London. Brutai turned out to be as badly misnamed as Shreddertron who played a few years back in that they're not particularly brutal. They play modern metal with a mix of clean and harsh vocals. The latter were OK, but the clean vocals were actually very good, and I enjoyed their set.
On the Jägermeister stage, Cadence Noir described themselves as "neuvo acoustic goth". To me, I'd say they played folk blues with occasional Quo like boogie elements. And with a healthy dose of Walkyier era Skyclad throw in for good measure. Whatever the genre, I enjoyed them. As I did Flotsam And Jetsam on the main stage. They're a band that I'd been vaguely aware of and of course I knew that Jason Newsted was their bass player before he joined Metallica, but I was unfamiliar with their material. As expected, they played traditional '80s thrash, but with unexpectedly good vocals. The guitar solos merit particular note, too.
Oakhaart were a disappointment. The music was melodic and the guitar harmonies were very much to my liking, but it was all ruined by the shouty vocals. Winterfylleth had garnered a lot of positive press a few years back and then had delivered an absolutely dreadful performance when they played at Bloodstock in 2010. They're delivered a somewhat better performance on their return in 2012 and this was another step up in quality. They were no doubt helped by a torrential downpour as they played their set, which ensured an absolutely rammed tent. But the performance itself was better, much more melodic than before and with Borknagar/Fyrdsman like tendencies at times. Hatebreed can be summarised as having a frontman shouting "woargh, fuck". Repeat ad nauseum.
Aceldama were a band I'd been wanting to see for a while. I'd been aware of them for a few years, but events had conspired against me and I hadn't managed to see any of their live shows. I'm a fan of female fronted metal, and Aceldama fit into that mould, at the Triaxis-like trad metal end of that spectrum, rather than the operatic symphonic end. Leanna has a good voice, but my only complaint would be that maybe the songs were a bit average and the songwriting could perhaps do with some work. The set ended on a high with a cover of The Pointer Sisters' "I'm so excited" and one of their own, "Metal and beer".
Dimmu Borgir got off to a terrible start, with technical problems meaning that their set started very late. Apparently that was due to a sound engineer messing things up, a sound engineer that they'd brought with them to the festival. Oops. When they did get going, the mix was poor and the set had to be cut short to fit into the time constraints. The problems continued with Shagrath introducing a song: "This is progenies of the great, great apocalypse". Long pause. "Or maybe not" as the backing intro failed to play. Despite the problems, they still put on a strong performance, with my highlights being "Gateways" and "Puritania".
The last time I'd seen Skyclad had been at the first ever Bloodstock in 2001, which had also been Martin Walkyier's final show with the band. I knew nothing about their output with his replacement, Kevin Ridley. Here they were cursed with a muddy sound which didn't help, but I think they'd have been uninspiring even without that. Down turned out to be better than when I'd seen them at Download. The heavy southern metal was OK, and Phil's gruff vocals were a noticeable improvement, but they're still very much lacking in songs. That just left Rotting Christ to round out the evening. Again they could have had a better mix, but they put on a strong performance and were a fine way to end the first day of Bloodstock 2014.