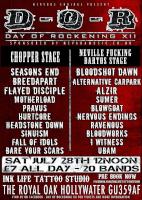 An all day festival at a pub in Hampshire wouldn't normally have attracted my attention, but the addition of Season's End as headliners pretty much guaranteed my attendance. I arrived too late to see the first few bands, so my first band of the day was Bloodworks. They were technically competent, particularly the lead guitars. But they were let down by some uninspired songwriting and needlessly bad death metal vocals. Sinuism continued that trend, with more vocals that sounded like the frontman was vomiting into the mic. The song structures tended more towards handcore punk than metal and the band were certainly heavy but showed little to merit further investigation. Ravenous were somewhat better, playing straightforward heavy metal. The lead singer had sort of Hetfield-style gruff vocals, which worked reasonably well. Their set included a cover of Machine Head's "Davidian".
Headstone Down were pretty poor, with unintelligible harsh vocals and weak songwriting. Nervous Endings weren't quite as bad. They played sort of groove metal, but not quite. The vocals were largely shouty, but sometimes intelligible. Not great and they over ran their timeslot significantly. From the name, I was expecting Hurtcore to be dreadful, but actually they weren't too bad, mixing clean and harsh vocals over heavy (albeit uninspiring) music. Blowgoat were enthusiastic, but that's about the only positive thing I can say about them. Shouty vocals, which sounded better from the bar than they did in front of the stage. They did include an amusing cover of AC/DC's "Dirty deeds", though.
Pravus took a somewhat unusual step of having no bass player, just two guitars, drums and vocals. They played alternative metal, with some proggy sections and both clean and growled vocals. Again, not my thing. Sumer played heavy alternative rock, which was OK, but a bit too subdued and shoegazing for my tastes. Motherload were the first band of the day to make a real impact, playing a blend of glam and sleaze rock that really worked. The band were tight, full of energy and had some great songs. They also had a banner behind the drum kit, which I always like to see. It shows they care enough about the band to try and promote themselves. They included another AC/DC cover, this time "TNT". I'll be keeping an eye out for them in the future.
Alzir played what sounded to me like a doomy brand of southern rock. They were competent and tight and put on a decent show. Unlike Flayed Disciple, who were technically competent enough, but their high speed death metal did nothing for me. I'd managed to miss Alternative Carpark when they'd played Bloodstock, so this was the first time I'd seen them. They played decent straight up heavy metal, with clean vocals and, as a local band, were clearly popular with the crowd here, drawing one of the larger audiences of the day.
Breedapart were another band with a banner, but unlike Motherload, they really didn't impress me. Their brand of modern shouty metal is just not what I want to be listening to. Bloodshot Dawn were headlining the outside stage and played technically proficient thrash. Occasionally the vocals veered a bit towards the shouty end of the spectrum, but they were mostly OK. As mentioned previously, Season's End were the reason I was here. After having the world in their hands in 2005/6, they threw it all away by fading into obscurity rather than releasing a new album and growing the band. Still, they were a great band, and it was good to see them again for their first show in 3 years. Yes, they were unsurprisingly a bit rusty in places. But it didn't matter, and I thoroughly enjoyed their performance. I hope this is a sign that we'll be seeing more of the band in the near future.
---
Beatlemania
Santa Pod Raceway
20th July 2012

A Beatles tribute band at Bug Jam. They were competent enough, but their George was a bit sloppy in places, and their Ringo played far more fills than the real Ringo's more simple patterns. The real problem, though, was the sound. Modern amplification techniques and a sound engineer that wasn't sympathetic to the material left a hugely bass heavy mix that jarred and simply didn't do justice to the songs. Not bad, but nothing special either.
---
Metal 2 The Masses London: The Perfect Storm
The Underworld
Splintered Soul
15th July 2012
Zodiac N Black
Bull-Riff Stampede
Divine Solace
The Conflict Within
Abandon The Faith
Bloodshed
Thames Burial
Second Rate Angels
Kremated
Blind Eye Fury
Asperitas
Skreamer

I had to wait until the bearer of my ticket arrived, so I missed the first three bands. Kremated played reasonable enough traditional thrash, but it was all a bit bland and repetitive for my tastes. Second Rate Angels were much better, providing some hard edged sleaze rock. Decent guitars and some good strongwriting helped out there. Thames Burial were just shouty thrash-tinged metalcore. All blast beats and scripted crowd interaction and an extremely lacking performance all round. Bloodshed gave a much better example of how to play thrash. They may be young, but these guys show some decent songwriting and a lot of promise. One to watch for the future. Abandon The Faith opened with a melodic keyboard intro that hinted at something good. But when they started playing, it was just blackened death metal by the numbers, with dreadful vocals. The keyboard player didn't actually seem to be doing anything as all of the synth sounds were coming from the backing tape.

The Conflict Within were another band that failed to live up to their potential. OK, so they're not playing my favourite genre of metal, but even so, they could have been better. The cookie monster vocals were overdone, but the clean vocals from the guitarist helped out somewhat. They reminded me of The Hollow Earth Theory, but without the quality of songwriting and with worse vocals. Divine Solace played some good folk tinged metal, with guitar harmonies and a mix of growled and clean vocals. Ensiferum would perhaps be the closest comparison I could come up with, but that's not an entirely accurate representation of the band. Bull-Riff Stampede played heavy thrash. I'd heard of the band in advance, and they featured Jay Walsh and Rod Boston, both of whom have played in several bands I've seen before. The lead singer also looks familiar, but I can't think where I'd have seen him. They were very professional, very tight, and are probably destined for bigger things. Zodiac N Black played a heavy alt-rock mixed with groove metal. It was OK, but they were just too bland to stand out. I'd seen headliners Splintered Soul when they played Bloodstock. Melodic female fronted metal is usually my thing, but although they'd been OK, they hadn't really impressed. What a difference a couple of years makes. Tonight they were very polished, the vocals were much better, and the songwriting appeared to have improved. It's not often you get to see a band featuring a six stringed fretted violin, either!

The purpose of the evening was to select a couple of bands to go on to play this year's Bloodstock festival. My picks would have been Divine Solace and either Bloodshed or Bull-Riff Stampede. Somewhat unsurprisingly, the latter were indeed picked, but the choice of The Conflict Within as the second winner was a baffling one to me. It was nice to see Splintered Soul (who weren't in the competition) also be granted a slot at the festival.

---

Metal 2 The Masses Reading
The College Arms, Reading
InComa
14th July 2012
Dark Karma Soul
Control The Storm
Strike Offensive

A regional M2TM final to determine which of the bands would go forward to play at Bloodstock this year. This was originally scheduled to be at The Face Bar, but a fatal stabbing at an R&B night had left the venue closed while the police investigation was underway. The organisers had scrabbled around and The College Arms was the only other venue they could find in the Reading area. In truth, it was too small to be putting on live music with any sizeable audience. But it was better than nothing.

The night's openers, Strike Offensive, played a traditional brand of thrash. It started out quite strongly, but by the end of the set, it was all sounding a bit samey. They had a ridiculous pit for the postage stamp sized venue, too. I'd been given Control The Storm's demo at a Delain show, and I'd heard good things about their live show from friends. The Bloodstock lineup was desperately lacking in melody, and I hoped that Control The Storm would be able to improve the situation somewhat. Musically, they were spot on. But as is so often the case, the weak point was the vocals. Her voice just isn't good enough, either in pitch or in power, and it was a disappointing performance.

Dark Karma Soul played a set of industrial metal. Initially it was a bit thin and watered down, and tended more towards the industrial end of the spectrum than the metal end. But as the set progressed, it got heavier, and better to my ears at least. The last few songs in the set were very good. I'd seen InComa before at the Music 4 Mental Health show a few months earlier, so I had a fair idea of what to expect. This time they started the show with all of their band members present, and put on a better performance than last time. Once again, though, the vocals were rubbish. If she'd sing a bit, rather than scream and growl in an attempt to mimic Angela Gossow, they'd be a much better band. On the night, Control The Storm were chosen to play at Bloodstock, although it's hard to see why. On the basis of tonight's performance, I'd have put Dark Karma Soul through.

---

Queen + Adam Lambert
Hammersmith Apollo
12th July 2012

Queen are one of my few regrets in life. I'd thought about going to see them at Knebworth, but it was going to be a lot of money and a logistical nightmare, so I decided to give it a miss and wait for the next tour instead. Of course, that turned out to be Freddie Mercury's last ever show. Hindsight is always 20/20. I didn't see them when they subsequently toured with Paul Rodgers, because he was frankly the wrong vocalist. He has a fine voice, but it doesn't work for their music. Earlier this year, they were announced for Sonisphere with American Idol contestant Adam Lambert singing. That didn't sound promising, and the videos I saw online did little to change that view, with him using horrendous amounts of misplaced vibrato. But I thought I'd give it a go anyway. However, Sonisphere was cancelled, and the band booked a series of shows in Hammersmith. Given that I work just around the corner, it seemed worth a shot.

John Deacon had retired a few years earlier, leaving just Brian May and Roger Taylor representing the band. The show opened with a medley of "Seven seas of Rhye", "Keep yourself alive" and "We will rock you". Medleys are always risky, and frequently leave me unsatisfied, as was the case here. I want to hear the whole song. And particularly the guitar solo at the end of "We will rock you". "Fat bottomed girls" was much better, though, and Lambert's voice is actually quite good. He faces an impossible task, in that Mercury simply cannot be replaced. But given that, he's doing a decent job of it.

"Under pressure" saw Roger Taylor emerge from behind the drum kit to sing David Bowie's parts, and he stayed out to sing "A kind of magic". His solo output and occasional Queen vocals showed he could sing, but you wouldn't necessarily have expected him to sing Mercury's lines. However, he did so with aplomb here. Brian's acoustic section saw a crowd singalong to "Love of my life", complete with Mercury making a taped appearance on the video screens at the back. Naturally, the crowd went wild. My highlights were "Another one bites the dust", "'39", the mandatory crowd participation in "Radio ga ga", "I want it all" and a reprise of "We will rock you" in the encore, this time with guitar solo.

They're not the same band without Freddie. But this was a strong showing despite that (helped by a back catalogue that means they can't really go wrong), and because of that, I'd go and see them again.

---

Shred
Santa Pod Raceway
23rd June 2012

Hard to say too much about these guys. They played reasonable enough rock and blues covers, but my lift wanted to go, so I had to leave after the first few songs :-(

---

Megadeth
The Electric Ballroom
Sanguine
12th June 2012

Sanguine had impressed at Bloodstock last year. They're probably the hardest band to categorize that I can think of, but whatever it is they do, it works. Tonight, though, lead singer Tarin was unwell. Despite that, her vocals were surprisingly strong, but perhaps it contributed to the lack of spark that was present when I'd last seen them, and they were a bit subdued tonight. The highlight was probably "Live, consume, drive" and a new song that I didn't catch the name of. I was a little disappointed not to hear "Simplify", though.

It's been many years since I've seen a venue as packed as this one. But when you're playing in a 1000 capacity venue as a one off show after playing to 60000+ at Donington a couple of days earlier, I suppose it's to be expected. Regardless, I could barely move. Megadeth had been hugely impressive supporting Priest a few years earlier, and I hoped they'd be able to repeat that performance here. Mustaine was clearly enjoying the audience feedback from being in a smaller venue than he would normally play, and that helped make for another strong performance. Highlights were "She wolf", "Symphony of destruction", "A tout le monde", and of course "Peace sells". The band seem to be in a good streak of form right now. Long may it continue.

---

Judas Priest
Hammersmith Apollo
Saxon
26th May 2012
Kobra And The Lotus

Kobra And The Lotus kicked the evening off with a wall of noise, so bad was the sound quality. Fortunately, it improved as their set progressed, but it never really reached acceptable levels. The band themselves were OK, although I feel Brittany's voice just doesn't fit with the band's music. "50 shades of evil" was reasonably good, though. Saxon were, well, Saxon. I've seen them enough now that I pretty much know what to expect, and they didn't disappoint, playing another set of classic crowd pleasers, interspersed with some of their newer material. Highlights were "Princess of the night", "Wheels of steel", "Crusader" and "Denim and leather".

This was the first time I'd seem Priest since the departure of KK Downing. Like many others, I thought that might be the end of the band. But they recruited Richie Faulkner as KK's replacement. Many were sceptical of that move, but I've long been a fan of Faulkner, having seen him play with Metalworks, Deeds, Lauren Harris and Voodoo Six. Yes, he had large shoes to fill, but he's coped admirably and his new bandmates are claiming he's breathed new life into the band. On this tour, Priest were playing songs from their whole career, promising at least one song from each album (or from the Halford fronted albums, at least). Halford himself was on good form, with little evidence of the vocal deterioration that others have claimed of his recent live performances. Faulkner looked completely at home and put on a strong showing, and the band as a whole were on top form. This was probably the strongest performance I've seen from them yet. The only thing I can pull them up on was the use of taped backing vocals during "Victim of changes", but as far as I could tell, they weren't used at any other point in the show. Other notable songs were "Rapid fire", "Beyond the realms of death", "Judas rising", "Electric eye" and "Painkiller". All in all and outstanding performance, and I hope they return to London sooner rather than later.

---

Metal 4 Mental Health
The Face Bar, Reading
Ghost In The Static
16th May 2012
The Hype Theory
Mask Of Judas
Rurin
Mary Kelly
Triaxis
Edge Of Ruin
The Affronted
Ghost In The Static
InComa
Winter Storm
Junction 13
Everyone Needs A Nemesis
Deprevate

I'd forgotten I was going to be working when I'd originally planned to go to this show. I didn't have time to go home and get the car, so I caught the train straight from work to Reading. Sadly, I missed the first few bands, arriving just as Winter Storm finished, which is a shame as they're one of the bands I wanted to see. The first band of the night for me was therefore InComa. Hard to describe. The music was melodic, the vocals were Angela Gossow-like death metal growls. But the combination didn't really fit the melodeath description. Amusingly, they started their set without the bass player who was late arriving and joined in part way through the second song. Reasonably good at what they did, even if it wasn't my thing. Ghost In The Static played a set of industrial metal. But for me, it was a bit more industrial and a bit less metal than I'd have liked. It was OK when they were going for it, but the quieter industrial sections served to kill the mood somewhat.

The Affronted played modern shouty metal. Plenty of energy, but little else, and the interspersed clean vocals were very weak. Edge Of Ruin were closer to hardcore punk with a slight crossover into something resembling groove metal territory at times. Triaxis were the band I was primarily here to see. They've been consistently good live performers, and tonight was no exception. They suffered a bit with the mix, with Glyn's guitar and Krissie's vocals being way too low. But the band was once again tight and Krissie's voice has come on leaps and bounds since I first saw them. Sadly they had to cut "The wicker man" from the setlist due to time constraints.

Mary Kelly provided more hardcore noise. Simplistic music played at high speed and with a vocalist screaming undecipherable nonsense over the top. A poor showing. Rurin were a bit more promising, with some reasonably melodic female fronted offerings. However, her voice droned too much, and she needed to put some force behind it. The songs were also a bit on the bland side and she was off pitch too often for my liking. Mask Of Judas mixed more death metal growls with some clean vocals. She has quite a reasonable clean voice, and it's a shame it wasn't used more. The song structures were slightly proggy in places, and the guitarist was pretty good although he was sadly lost in the mix much of the time. The final band of the night were due to be The Hype Project, but they pulled out for reasons unknown, and Ghost In The Static did another set in their place.

I normally like gigs like this. You get to see a large number of bands, most of whom are rubbish and you occasionally find a gem mixed in with them. Sadly, tonight wasn't one of those nights, and it was mostly made up of weak, amateur sounding bands. I don't much like the trend of unsigned metal bands in the UK all heading down the "we're not going to sing" route, but that does seem to mostly be how it is right now. Triaxis were the obvious exception, and were head and shoulders above everyone else on the bill.

---

Delain
Islington Academy
Trillium
16th May 2012
Halcyon Way

Halcyon Way are hard to describe, but however you choose to do so, they were completely out of place on this bill. They played a sort of modern traditional heavy metal, with mostly clean vocals and a few harsh vocals thrown in. The vocals sounded a little out of tune at times and the song structures were a bit to progressive for my tastes. They also had a very intrusive (to my ears) backing tape. It's a shame because they're clearly competent musicians, but somehow it just didn't work.

I knew nothing about Trillium other than that they were Amanda Somerville's latest band. Somerville has been a vocal coach for Simone Simons and had contributed to Epica, Avantasia and a number of European melodic metal projects. As might be expected, you couldn't fault her voice. But the songs were a bit bland and the band as a whole fell squarely in my "OK, but nothing special" category.

The last time I saw Delain was a bit of a gamble. I like the genre, but I'd only heard a couple of tracks by the band and was unfamiliar with most of their material. They impressed enough that I was more than happy to see them again. This time around I was a bit better prepared. Even so, they still managed to surprise me by being heavier than I expected. For reasons unknown, guitarist Timo Somers was unable to make this tour, and Bas Maas did a fine job of standing in for him. Charlotte's voice was great and the band seemed to be enjoying themselves. As before, They played a number of new tracks from the forthcoming album, all of which sounded very promising. Of particular note was "Get the devil out of me", a song which impressed last time around as well. Other highlights were "Stay forever" and "Invidia". The encore saw "Control the storm", and "The gathering", the former of which didn't really work for me without Marco's contrasting vocals. But that aside, it was another strong showing. This gig was originally due to be at Koko, but was downgraded to the smaller venue presumably due to poor ticket sales. They can't have been too bad as it was reasonably packed. If tonight's performance was anything to go by, they certainly deserve to be played larger venues to bigger crowds. Hopefully the release of the new album "We are the others" will propel them on to bigger and better things.

---

Die Apokalyptischen Reiter
The Underworld
Emil Bulls
25th April 2012
Malrun

Malrun were not a good start to the evening, and were basically just shouty noise, with few redeeming features. But Emil Bulls were worse. Shouty vomiting into the mic, peppered with intermittent singing. Musically, they sounded like hardcore crossover punk. Not my thing at all, although a track called "Nothing" stood out as being better than the rest. I'd managed to miss Die Apokalyptischen Reiter at Bloodstock, but had heard good things about their performance, and on tonight's evidence, that praise was completely warranted. The Rammstein comparisons are a little off the mark, and I suspect come about just because both bands play heavy music with German lyrics. Where Rammstein are firmly industrial, DAR have more folk metal leanings. They were heavier than I expected but put on a strong performance, and I'd go and see them again if they play in London.

---

Axel Rudi Pell
The Underworld
Mad Max
22nd April 2012

I'd only vaguely heard of Mad Max before, but they turned out to be unexpectedly good, playing something that straddled the line between hard rock and the lighter end of the metal spectrum. I couldn't tell if the AOR style choruses were coming from an effects pedal or a backing tape, but a good performance either way. Axel Rudi Pell is one of those artists where you generally know exactly what you're going to get. His sound hasn't really changed much in the last 20 years and tonight was more of the same. Melodic, guitar driven metal with good, clean vocals courtesy of Johnny Gioeli. I was a little surpised at how song-centric it was, with little evidence of the soloing and guitar wizardry for which he became famous, but the performance didn't really suffer for it. Highlights for me were "Carousel" and "Fool fool".

---

Metalworks
The Monarch
Queenworks
12th March 2012

Review to follow.

---

Elimination
The Unicorn
Triaxis
8th March 2012
Tempus Fusion
Oaf

I was later leaving work than I'd hoped for and I'd expected to have missed Oaf's set. But as it turned out, I arrived in time to see the last few songs. They play a sort of punky alternative rock, with comedic lyrics. But mostly it was just noise, and they did nothing for me at all. Following them were Tempus Fusion. I'd checked out a few videos online beforehand, but was somewhat suprised to hear how heavy they sounded live. It turns out there are two bands with that name, and I'd been watching the other one, who are quite different! This one features half of Season's End. Although there was less prog wankery than I was expecting, they could do with a better vocalist. Or at least, to cut out the harsh vocals. When he actually sang, he wasn't too bad. And of course, David Stanton (who was playing bass here) has a great voice.

But really, the only reason I'd come to this show was to catch Triaxis again. They're a great live band, and I take every opportunity I can to see them. Tonight they were due to be showcasing songs from their new album, which should be released later in the year. Time constraints meant they had to cut a couple of those songs ("...and shadows creep" and "The infected"). But we were still treated to "Sand and silver" and "Sker Point", both of which I'd heard before, and "Black trinity" which I hadn't. It's all sounding very promising for the new album. In addition, they played a couple of songs from the first album (including my personal favourite, "Lies") and finished off with a new Iron Maiden cover, "The evil that men do". Glyn is turning out to be a fine replacement for Gav on guitar, and Krissie's vocals were better than I've heard them before. This was among the best performances I've seen from them. They really are a band on the rise at the moment.

I'd seem Elimination at this same venue a few months earlier (also with Triaxis). As before, they put on a competent display, but it just came across as very bland. They play a traditional brand of thrash, but although they don't do much wrong, they don't get much right either, and it rapidly turns into background music. As before, the guitarist showed a level of competence that makes me want to like the band. But until they improve the songwriting, and possibly get a new vocalist, they're likely to remain also rans in my mind.

---

Lorriworks
The Fiddler's Elbow
Nightvision
24th February 2012
Roxville
The Black Room

This was a gig organised by my friend Lorraine to celebrate her birthday. The Black Room kicked off the evening, playing glam metal. Jacko has a decent enough voice, but he could do with projecting it a bit better. I've seen Dani before with both Achilla and Metalworks. His guitar work is good, but it was a bit on the sloppy side in places this evening. But overall they weren't bad, and ended with a cover of Skid Row's "Monkey business", in which Jacko did a surprisingly good impersonation of Seb Bach.

Similarly, Roxville also played a set of glam tinged metal. They'll never be more than a pub band, but they're good enough with it. The headliners for the night, Nightvision, were a bit different to the preceding two bands. Lorraine described them as straddling the line between hard rock and heavy metal, which is probably about right. They threw in a cover of Black Stone Cherry's "White trash millionaire", which didn't sound out of place, and should give an idea of roughly what they sound like. They lack the glam element of the first two bands, which prompted the crowd to thin out noticably. That's a shame, though, as they were by far the most polished band of the evening, and for me were comfortably the band of the night.

After Nightvision, Lorriworks hit the stage. They're basically an impromptu band formed of various people associated with Metalworks who agreed to play a bunch of covers in order to help Lorraine celebrate her birthday. Of note was that Mark Cross (of Helloween and Firewind) was on drums. They played songs by Bon Jovi, Ozzy, Twisted Sister, Tyketto, Scorps etc. Luka got the words wrong on a few occasions, but it didn't really matter, and it was a decent way to end the night.

---

Rammstein
The O2 Arena
Deathstars
24th February 2012

Deathstars are an OK band, but nothing special. However, when you're sat up in the gods, with dreadful sound, they deteriorate into a very lacklustre live experience. I couldn't hear the lyrics at all, and the music was very muddy. Probably due to the demographics of the audience, they appeared to choose their harder edged song for this show, which was a definite improvement. But the sound quality really hindered them.

Rammstein are a very different experience when you're seated compared to when you're stood at the front. But that doesn't make them any less entertaining. They certainly know how to make an entrance! They entered the arena from the side, and climbed up to a small stage in front of the mixing desk. From there they crossed to the main stage via a bridge that was lowered from the roof, and then launched into an excellent "Sonne". The sound wasn't great, but it was much better than for Deathstars. It was nice to see "Sehnsucht", "Mutter" and "Du riechst so gut" all make an appearance. As expected, the pyro was plentiful, and an excellent "Links 2-3-4" followed by "Du hast" preceded "Haifisch" to close out the show. But two encores followed, which saw almost as many songs played as in the main set. The first of which was on the small stage, which was a nice touch. Then the second encore saw "Mein herz brennt", "Amerika", "Ich will", "Engel" and finally "Pussy". With tracks as strong as those, it's hard to go wrong. Good though it was, I felt they were slightly less on form than the last few times I've seen them. But nonetheless, they remain one of the best live experiences in the world right now.

---

Dragonforce
The 100 Club
Pythia
16th February 2012

I've seen Pythia a few times now. They're a band much like Adastreia, in that they have a more than capable vocalist, but one that is woefully unsuited to the music that the rest of the band are playing. I like both the music and the vocals. They just don't belong together. This was the first time I'd seen Dragonforce since Marc Hudson had taken over the frontman role from ZP Theart. Vocally, he's fine. Possibly better than ZP. He's a bit green, but the basics are there and he has a promising future ahead of him once he's got a bit more experience of being on stage. The rest of the band were much better, with none of the sloppiness that's plagued their previous live performances over the years. The downside was that they suffered from a terrible mix. It sounded a bit better further from the stage, but it still wasn't great. But that aside, this was a decent showing. Highlights were "Black fire" and "Through the fire and flames". I was very surprised to see "Valley of the damned" omitted. I think it's the first time I've ever seen them not play it.

---

Edguy
Islington Academy
Voodoo Six
4th February 2012
Primitai

Primitai have put on several decent live performances of late, and this was another one to add to the list. Sadly, they were only given a very short set in which to show off their talents. Still, they made the most of it, with "Sin city" and "Degeneration" both being very good. This Voodoo Six incarnation is virtually unrecognisable from when I first saw them. Nevertheless, this lineup seems to have garnered plaudits, and in particular, a certain amount of mainstream recognition. Matt Pierce is now the main lead guitarist, and Luke Purdie has replaced Henry Rundell, bringing with him a very different vocal style. They came across as very polished here, with a dirtier, more bluesy sound than they had in the past. The standout song here was their current single "Falling knives", which has seen a reasonable amount of radio airplay, and deservedly so. It's probably fair to say that Edguy are past their prime. The last few albums have been sub-par and their accompanying live performances have suffered as well. That said, they're still a compelling live act, and Tobias is a great frontman. "Tears of a mandrake" was head and shoulders above everything else here, with "King of fools" being the only other track that came close. I just don't understand why the keep playing weak songs like "Lavatory love machine" or "Save me" in their live sets. Once again, "Mysteria" was a criminal omission. They're a good band. But they're really doing themselves no favours with their choice of setlists.

---

Current | 2018 | 2017 | 2016 | 2015 | 2014 | 2013 | 2012 | 2011 | 2010 | 2009 | 2008 | 2007 | 2006 | 2005 | 2004 | 2003 | 2002 | 2001 | 2000 | Older