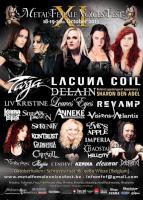 The festival proper kicked off with a band called Magion. I'd been told in advance that they were a bit like Epica. That wasn't too far from the mark. The songs were perhaps a bit less epic and the vocals weren't quite as prominent, but I thought they were very good and I bought their album at the merch stand. Azylya were next up, a band that took the increasingly common "beauty and the beast" approach to vocals. They were OK, and they made a decent attempt at putting on a show. But the vocals weren't particularly outstanding and I thought the songs were weak.
Polish band Victorians were next, or as they're sometimes called Victorians Aristocrats' Symphony. Faux Victorian costuming abounded, which would no doubt have anyone interested in authentic costumes of the period cringing. Musically they were OK, with epic songs and operatic vocals. The song structure was perhaps a bit average, but they were enjoyable enough. Their set ended with a cover of Woodkid's "Run boy run". I'd heard good things about Imperia, but for me, they just didn't work. The operatic vocals were rarely in tune, for a start. The songwriting was poor, the vocals didn't really fit the music and the overall effect was somewhat dull and unengaging.
Serenity, on the other hand, were much better. But then, having seen them before, I expected them to be. Not least because Georg is a great frontman and has a fantastic voice. This time around, in keeping with the festival, they'd reworked some of the songs to make Clémentine's vocal parts more prominent, and unlike a regular Serenity show, she sang on every song. Mostly that worked, but there were a few occasions where I felt her vocals weren't as powerful as they needed to be for the song, such as on the chorus to "Coldness kills" for example. Delain's Charlotte Wessels came on to guest on the final song, "Serenade of flames". Another strong performance, then, but I think they've been better in the past.
Chaostar. Where to begin? Are they an experimental art project or a serious musical band? Who knows? Way too much alternative random noises for my tastes, mixed with some occasional dubstep, which made them seem more than a little out of place at this festival. There were no guitars or basses. But there was a violin, along with two keyboards and one other choice (be it a lute, sitar or flute-like woodwind instrument). I've seen Kobra And The Lotus a few times now and I really want to like them. All of the elements are there. But somehow it just never seems to fall into place. I don't dislike them. But the vocals are never quite right and the songs always feel like they need a bit more work. Not bad, but nothing memorable. Again.
Visions Of Atlantis had been forced to pull out at the last minute, so local band Asrai were drafted in to replace them at short notice. I'd seen Asrai before in London as a support band. This time around, they seemed better. The music was more straight ahead metal, rather than the slightly alternative feel they had before. The vocals were good enough and it was a competent performance. If I'd thought Chaostar were out of place, Kontrust made them look almost normal. What were they doing here? Way too many rap and bizarre off the wall influences for my tastes. There was some actual singing, though far from enough, and there were two drummers on stage. Dreadful.
Having seen Leaves' Eyes a few times before, I'd always felt they were a bit lacking and that was mostly continued tonight. The highlight was "Elegy", but even that was a bit weak and washed out. However, they played 5 new songs here, and from what they played, I'm mildly optimistic about the new album. The new material was certainly very strong in comparison to their back catalogue. My other complaint, which will come as no surprise, was their over reliance on taped backing vocals.
So on to tonight's headliners, Lacuna Coil, a band I've liked since their very first EP. They've had their ups and downs since then, but the latest album, "Dark adrenaline" was a very welcome step back in the right direction. What I didn't know until about an hour before the show was that they'd decided to play the entirety of "Karmacode" tonight, an album that for me was one of the low points of the band's history, which wasn't a good start. Combine that with a muddy mix and you have a recipe for a substandard show, which is what we got. It wasn't all bad, and "Enjoy the silence" was good, along with an encore that included good performances of "Trip the darkness" and "Heaven's a lie". But this was far from one of their better shows.