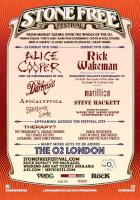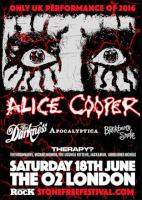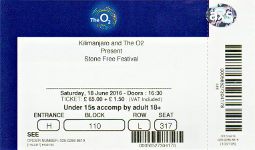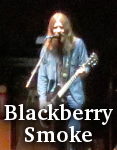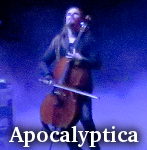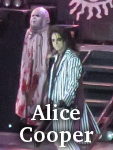 I thought when this festival was first announced that they'd perhaps been a bit ambitious with the choice of venue. However, I wasn't expecting it to be quite as sparse as it turned out. The venue holds 20,000. I'd be suprised if there were even a quarter of that present, and for the opening bands it was considerably less than that.
Blackberry Smoke were much as I'd remembered them from the last time. A southern blues rock band, bordering on country music at times. The problem here, as with the last time, was that they were just a bit too laid back and lacking oomph. They did little wrong, but I won't be going out of my way to see them again.
It had been a while since I'd last seen Apocalyptica and I was looking forward to seeing them again. However, they were frankly terrible, and it was largely not their fault. The mix was abysmal. The drums completely overpowered the very muddy cellos and the snare drum in particular was drowning out everything else. If there was a highlight, it would be "Master of puppets", but sadly this probably ranks as the least enjoyable Apocalyptica performance I've seen.
I'd never managed to see The Darkness before. I'm not their biggest fan but at the same time, I quite like some of their music. The performance wasn't bad. But I did feel Justin Hawkins' between song banter was very weak. Someone mentioned that his comments seemed LSD induced and that while he was clearly being impressed by his own attempts at humour, the audience largely weren't. Their mix was fortunately a little better than Apocalyptica's, but still some way from where you'd want it to be. They complained that they'd had to cut their set short due to Apocalyptica overruning, but that had in turn been caused by a late start due to Blackberry Smoke overruning. The highlight of the set, unsurprisingly, was "I believe in a thing called love".
Tonight's headliner, Alice Cooper, was the reason why I'd got a ticket. While I might have seen a handful of the other bands playing over the weekend in their own right at a cheaper show, Cooper was the only real draw that made me want to part with the amount of money being charged for tickets here. I've seen him many times over the years, and he's never failed to put on a good show. The same was true here. If there's one criticism, it's that his setlists have become a bit predictable, and that was also true here. Which is why it was great to see him throw a curveball and add in a bunch of covers to honour dead rock stars that he's known (Keith Moon, Jimi Hendrix, David Bowie and Lemmy). Other than those, "No more Mr Nice Guy", "Billion dollar babies" and "Ballad of Dwight Fry" all stood out, along with perennial set closer "Schools out" and "Elected" in the encore.