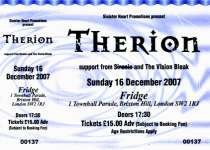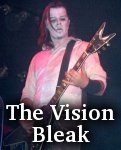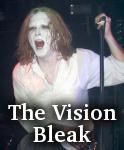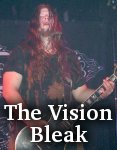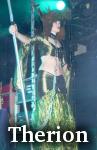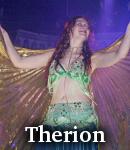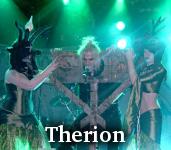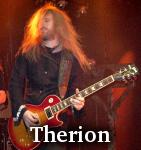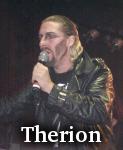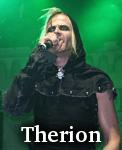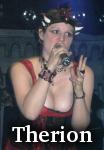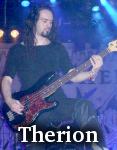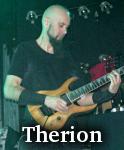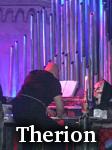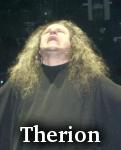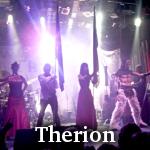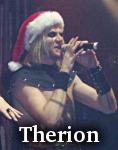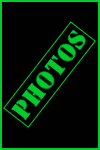 I hadn't heard of The Vision Bleak before this show, so I was pleasantly surprised by what I saw. A good performance all round. They were hard to categorise, but I'd say they played dark melodic metal, that reminded me of the sound track to a horror film. Indeed, on the strength of their performance, I bought a couple of their CDs, and in the liner notes, they describe their own music as "horror metal". Definitely a band to watch out for in the future.
One of the reasons I was particularly looking forward to this show was Sirenia as the main support. However, they parted company with their new vocalist a month or so beforehand, and so had pulled out of the tour. To compensate, Therion said they'd be playing a 3 hour set, including the whole of the "Theli" album. Much as I like Therion, I wasn't entirely sure they'd be able to sustain my interest for a full 3 hours. As it turned out, I needn't have worried. They put on an outstanding performance from start to finish. "The rise of Sodom and Gomorrah" was an inspired opener, and as promised, we were treated to the full European stage show. That included girls in horned headdresses chained to posts at the side of the stage, Snowy Shaw being put in headstocks, a belly dancer, and keyboard player Ferdy Doernberg being given a full church organ mockup. We also saw a guest appearance by Messiah Marcolin from Candlemass on a couple of tracks.
The night really got going part way through the first set, with an acoustic Lemuria, featuring not only the two regular guitarists, but also Shaw and Doernberg. They followed that up with "Via nocturna", "An arrow from the sun", "Typhon" and "Ginnungagap", all of which were superlative. After a short break, they returned to play the "Theli" album, which was perhaps the weakest part of the set, but still worth watching. I'd thought they'd struggle a bit without Mats Levén on vocals, but Thomas Vikström makes an admirable replacement, particularly in partnership with Snowy Shaw.
For the encore, we were treated to all 13 minutes of "Adulruna rediviva" from their latest album "Gothic kabbalah", and then a second encore saw Messiah Marcolin return for a cover of King Diamond's "Black funeral", and then a set closing cover of ABBA's "Summernight city". An absolutely amazing show, that made me rethink my ranking of Heaven And Hell as the best show I've seen this year. After this performance, there's no way on earth you could keep me away from Therion's next UK show.