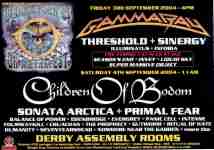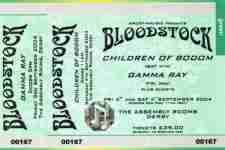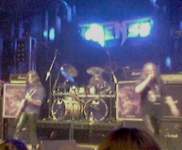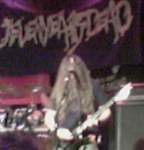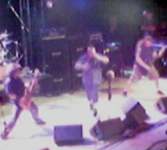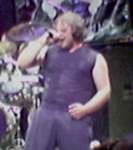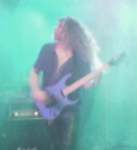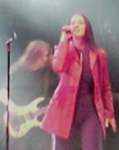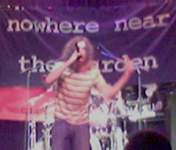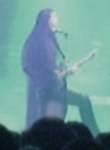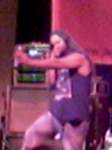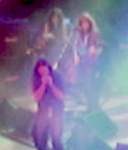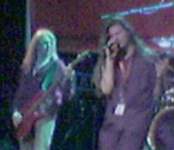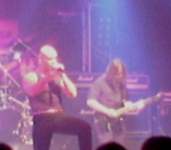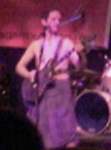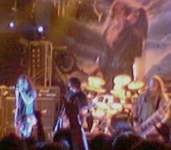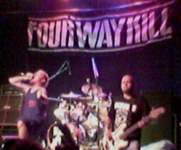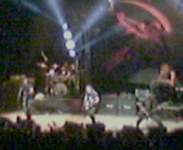 I'd arrived at the venue too late to catch the first band of the day, Rezin 69. Intense were thus the first band I saw on the Saturday. I haven't been overly impressed when I've seen them before, and although they're definitely getting more professional over time, I still feel that the vocals just aren't good enough to compliment the music, and until that situation changes, they're always going to be less than they could, and perhaps should, be. Still, a reasonable showing nonetheless. In the Darwin Suite, Seven Years Dead were a taste of something a bit heavier, playing a traditional brand of thrash. The vocals sounded a bit flat in a live environment, though, and the band didn't do much for me. I'd be interested to see if a studio setting would give an improvement though, as there's certainly some potential. Panic Cell had garnered quite a large following on the main stage. I'm not entirely sure why, though. Although they were quite popular with the crowd, to me they came across as an average pub rock band, and were a bit bland. Humanity were another band that didn't do anything particularly wrong, but did nothing to stand out from the rest either. They did show a marked improvement on a song introduced as "Serenity", though. I'd been looking forward to seeing Edenbridge, as I'd been quite impressed with their studio output. Again, although I enjoyed the set, they did little to make it a truly memorable one, and a lot of their songs came across sounding very similar to each other. Two exceptions to that were their renditions of "Wild chase" and "Cheyenne spirit", both of which were head and shoulders above the other material they played. I'd have liked to have seen "Sunrise in Eden", though.
I'd heard a lot of bad things about Nowhere Near The Garden before the weekend, and several people had complained that they weren't the style of music that should be playing at a festival like Bloodstock. So I was somewhat surprised when my low expectations were easily surpassed by what turned out to be quite a decent band. True, it's not a style that I'm particularly into, reminding me of bands like Finger 11. But they had strong musicianship, a great stage presence, and a frontman who did a great job of performing to the crowd, even if he hasn't managed to buy a pair of jeans that come up to his waist yet. They put on a good enough performance that I'd definitely go and see them again on their own should they be playing in London. Evergrey were the first of the big name bands. They have obviously been doing this for a while now, and came across as extremely professional, and put on a great set of technical metal, which went down very well with the crowd. They come across significantly heavier on stage than they do in the studio, too, and that seems to work well for them. The highlight for me was probably an excellent "A touch of blessing". Next up in the Darwin Suite, Gutworm were playing their warp speed death metal. The vocals were too incomprehensible for me, though, and I just didn't enjoy their set at all. They had an inexplicably large crowd, though, far larger than some of the more deserving bands on the bill. Balance Of Power have recruited a new vocalist since they last played at Bloodstock in 2002. This has been a big improvement for them, and they're a better band now than they were then. They are still a bit too bland and progressive for my tastes, though. I'd like to see them move in a heavier direction. The Prophecy were very melodic, with some Maiden-esque tempo changes mid-song. As is becoming common these days, they alternative clean and harsh vocals. However, I think they haven't struck the balance right, and they're not using enough clean vocals to provide variety to their sound.
So on to Primal Fear. Having stolen the show at Bloodstock '01, I'd gone out of my way to see them again, but the next two shows of theirs I saw hadn't lived up to their original promise. Furthermore, their two most recent albums haven't been quite up to the standards they set with their earlier output. So it was with mixed expectations that I waited to see them. Wow. I needn't have worried. This was a textbook demonstration of how to play heavy metal to an audience. Wisely opening with the awesome "Angel in black", they stormed through a set of classics. Although Ralf claimed they had 5 albums worth of material to get through, they concentrated on songs from only 3, with only "Final embrace" making the set list from "Jaws of death", and nothing from "Black sun". The highlights for me were "Nuclear fire", "The healer" and "Metal is forever". Even some minor sound problems resulting in Stefan's guitar being way too low in the mix didn't affect the enjoyment of a stunning performance from start to end, that I didn't want to finish. Cruachan were an enjoyable, but odd mix of celtic folk and metal, with electric instruments and a selection of traditional celtic ones. Sporting both male and female vocals, harsh and clean, they reminded me in places of various bands such as Clannad, Gary Moore, Inkubus Sukkubus and Steeleye Span. Highlights for me were "Brian Boru", and "Ride on", which although I'd never heard of it before was apparently a hit single for them. An awful lot of people were looking forward to Sonata Arctica in the main hall. It was a big disappointment, then, when they were essentially crippled by sound problems. Although they were going through the motions on stage, the guitars and backing vocals were literally silent through the PA, and the keyboards could barely be heard, being drowned out by the bass and drums. Vocalist Tony Kakko was visibly upset by this, and spent the first few songs heading over the to mixing desk and furiously trying to get the problems sorted out. Over the course of the set, the sound did definitely improve, but I'd say well over 50% of the set was marred by the sound quality. That's not to say the set wasn't without its highlights, which for me were "Still loving you" and "Replica". But the band obviously weren't enjoying it, and although they were trying their hardest, the sound problems definitely spoiled their set for me. Fourway Kill had a large crowd, but as when I saw them supporting Blaze, they simply proved that they are great exponents of making a lot of volume. There was simply too much noise and not enough substance or songwriting skills to sustain my interest. They also had by far the worst pit fiends of any of the bands at the festival. The security guards were standing and watching in amazement as they beat each other up while ruining the set for those who were trying to watch the band. Children Of Bodom have parted ways with their previous guitarist. This opening was thus filled by Alexi's partner in crime in Sinergy, Roope Latvala. The two of them are extremely technically competent, and together they have the potential to rival some of the great twin lead guitar pairings. I've always felt that they've been let down by Alexi's Dani Filth like vocals, though, and tonight was no exception, that being my only real complaint. Highlights of the set were "Every time I die", and an excellent "Angels never kill". Another Bloodstock over, then, and this time I managed to see all but two of the bands playing over the weekend. Of the 25 bands, only Invey, Gutworm and Fourway Kill produced substandard performances. The rest were all good and came up trumps with strong showings. Honourable mentions must go to Season's End and Nowhere Near The Garden, neither of whom I'd heard before, and who both put on strong performances. Of the big name bands, Sinergy and Evergrey led the way. But at the end of the weekend, it was clear that Primal Fear were simply in a different league to the everyone else, and easily took the honours of my band of the festival. Come back to the UK soon, guys!