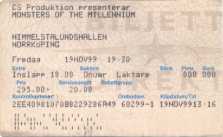 Manowar haven't played the UK on their last 3 tours, so to see them I needed to go abroad. A few friends went to Germany for the last tour, and I was being sensible and decided to stay at home. This time round, though, I decided to just go ahead and do it, particularly when the support bands were so strong. It was well worth it. The venue was an ice hockey rink with a stage at one end and some flooring covering the ice.
The only exposure I'd had to Lion's Share was from their cover of "Touch of evil" on a Judas Priest tribute album. I was reasonably impressed, and it was one of the tracks they played in a strong but not particularly memorable set. Still, it was enough to persuade me to buy their albums.
Next up came Dio. I wasn't particularly impressed the last time I'd seen him, but fortunately, tonight was much, much better. He played a selection spanning most of his recent career, but the stuff from the early Dio albums went down the best (and deservedly so, in my opinion).
Third were Motörhead, who performed pretty much how you'd expect them to! Phil Campbell's stage presence is embarassing to the point to cringeworthiness, but I was particularly impressed with Mikkey Dee's drumming. Lemmy was his usual cynical self :-) The crowd seemed mostly unfamilar with the material, apart from the obvious "Ace of spades", and to a lesser extent, "Bomber".
Finally, came Manowar. They've upgraded their equipment since the last time I saw them, with the result that the sound quality is crystal clear, by far the best I've heard at any concert. However, I felt they spent too much time boasting to the audience about how metal was never going to die, instead of just getting on and playing the stuff! What they did play was good, but lacking that spark that separates a good gig from a truly outstanding one. The exception to this was "Gates of Valhalla". There was something magical about several thousand Swedish metal fans screaming "Valhalla, the Gods await me" at the top of their voices. It was one of those occasions that makes the hair on the back of your neck rise. Simply awesome, and probably the best single song I've ever seen performed live.