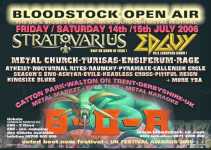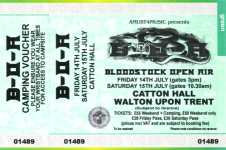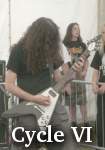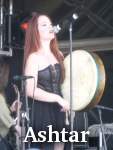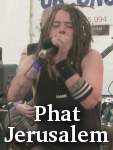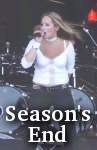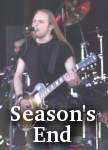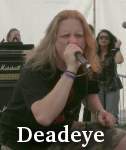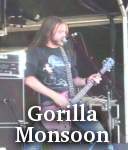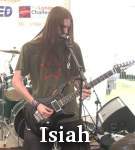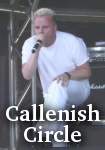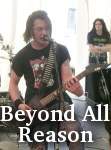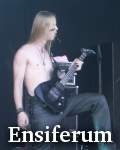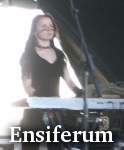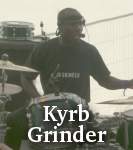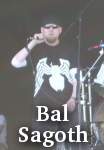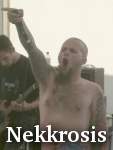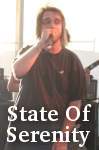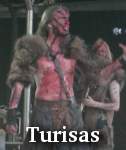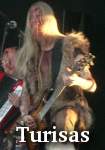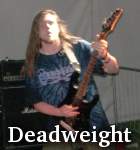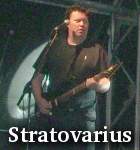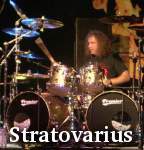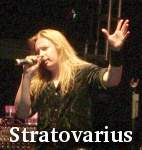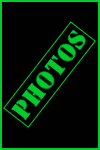 Day two, and I missed both Black River Project and Nineteenth Century. The first band I saw was thus Cycle VI, who proved to be a reasonable, if unexceptional thrash influenced band. On the main stage, Brazil's Ashtar certainly provided some eye candy, but were a bit lacking in terms of sound. I guess the closest I could come to describing their sound would be to call them folk thrash, mixing electric guitars with a violin and bodhrán. The vocals were alternating between being very good and being flat, and weren't really strong enough to match the rest of the band. There's promise there, but they need to work on it. Phat Jerusalem mixed agressive metal with rap vocals. As far as I'm concerned, rap vocals have no place in metal, and I was left distinctly underwhelmed.
As expected, Season's End put on another strong showing. Becky seemed more aggressive than usual, but the band suffered from a poor mix, which hampered them somewhat. Highlights for me were "Celestia" and of course "Ghost in my emotion". Deadeye introduced themselves with the phrase "we are the cheese in your metal sandwich". The music was less extreme than most of the other bands on the unsigned stage, but the vocals were still harsh. Not bad, but certainly not cheese metal. Gorilla Monsoon played Orange Goblin style stoner rock. Sadly, it was just too bland for me, and was let down by the monotonous vocals.
Isaiah were the most extreme band to play the unsigned stage. They were good at it, and I came away reasonably impressed, even though it's not really my sort of thing. Callenish Circle did surprisingly well for a death metal band playing on the main stage. Again, it's not really my preferred genre, but they made a decent show of it. Beyond All Reason were the first (and it would turn out, only) band to play the unsigned stage with a singing frontman, as opposed to a grunting or barking one. That endeared them to me from the start, but the music was good as well, and for me, they were by far the best of the unsigned bands, playing no frills metal.
After their outstanding performance at The Underworld a couple of years back, I'd expected Ensiferum to do well here, and I wasn't disappointed. Their brand of melodic viking metal went down well, and was a welcome change from the previous couple of main stage bands. Highlights were "Windrider" and "Little dreamer", but as with Season's End, the band suffered from poor sound. Kyrb Grinder had been a bonus band at least year's Bloodstock indoor festival, filling an empty slot when another band was late turning up. They were much the same this time around. Aggressive music with funk influences made for an interesting performance, but I found the novelty wearing off towards the end of their set.
Bal-Sagoth are an over the top band on CD, but they'd been very disappointing at Bloodstock in 2002. If anything, they were even worse here. The epic qualities of their music just seem to be lost in a live setting, particularly when frontman Byron simply doesn't look the part. This was probably highlighted more than usual because Ensiferum had just shown everyone how it should be done properly, and Bal-Sagoth seemed very second rate in comparison. Nekkrosis were the token terrible band of the festival. They had two vocalists, but no singing. They were better than legendary "bad Bloodstock band" Bumsnogger, but not by much. State Of Serenity continued the theme on the unsigned stage with yet another wall of noise. They did, however, have some melodic instrumental breaks, which worked well, and if they emphasised those parts a bit more, they'd be a much more interesting band for me.
What can I say about Turisas? They're a bunch of unhinged Finns. But they certainly know how to put on a metal show, and how to impress an audience. Obvious highlights were "One more", "Battle metal". But in addition, we were treated to the bizarre sight of an onstage sauna, where the band were joined by members of Ensiferum. Plus, in addition to the expected "Rasputin" cover, we also got the theme from "Dallas" and the William Tell overture. Deadweight were more mostly tuneless noise, and did little to sustain any level of interest.
The last time I'd seen Stratovarius live, they'd been somewhat disappointing, without doing anything particularly wrong. Tonight was much the same. They started out well, with "Land of hope and glory" being a popular choice of intro music. But mostly they just seemed to be going through the motions, and were lacking the spark that they had when I first saw them at The Underworld. That said, there were certainly highlights, such as "Hunting high and low". Perhaps it was just that I was tired at the end of a long day. But they just didn't seem to inspire me here.
So overall, I was very impressed with my first Bloodstock Open Air. I think the unsigned stage needs some attention before next year, with only Beyond All Reason standing out from the crowd. On the main stage, strong performances from Rage, Metal Church, Season's End, Ensiferum and Turisas helped to make it the strongest Bloodstock event in a few years. Roll on 2007...