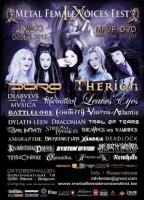 Today's openers Diary About My Nightmares weren't really what I was expecting. The music was OK and somewhat reminiscent of Dark Tranquillity. No beauty and the beast vocals here, though. This was beast and beast in full flow. The Arch Enemy style female vocals just ruined any hope I might have had of enjoying the performance. Operatika were more the sort of thing I was hoping to see at this festival. As the name implies, operatic vocals were the order of the day here, but while Slava Popova has a decent voice, she doesn't seem to have the same level of control shown by, say, Therion's Lori Lewis. Also, the real star of the band was not the vocalist, but the shredding guitarist, who seemed a strange choice for a band of that name, but put in a great performance. They ended with a cover of Dio's "We rock", which seems an odd choice to be given the operatic treatment, and didn't really work that well. The vocals lacked the punch necessary for the song.
I'd never heard of Hungarian band Velvetseal before, but the soundcheck sounded great and I had high hopes for them. She had a good voice, and they were competent musicians, but they were lacking spark, and felt like they were just plodding through the set, rather than particularly putting any effort into it. The taped backing vocals broke part way through one song, which put the band off their stride. Not bad, but the soundcheck promised more, and they could do with a better songwriter. Norwegians Triosphere were up next, another band I'd never heard of before the festival. The mid-range vocals sounded very familiar, but I can't think who they remind me of. The music was heavy, with progressive leanings. The earlier material was heavier than their more current songs. They were OK, but I'd have preferred the music to be a bit more epic.
System Divide offered up more beauty and the beast vocals, but the beastly vocals were particularly harsh, which didn't do them any favours. They were heavy with a brutal onslaught of noise coming from the stage. They'd been billed as being somewhat like Lacuna Coil and Arch Enemy, but I didn't really see many similarities to either. The vocals might have been somewhat reminiscent of Cristina Scabbia in places, but the music was much closer to nu-metal/mallcore. Midnattsol came across as a heavier, folkier version of Leaves' Eyes. This shouldn't really be surprising, as lead singer Carmen Espenæs is Liv Kristine's sister, and the vocal and visual similarities are evident. They were good enough, but the songs didn't seem to flow well. I'd see them again, but I wouldn't go out of my way to do so.
What on earth has happened to Stream Of Passion? The last time I'd seen them, they were OK, but a bit lacklustre and the songs were a bit lightweight. Clearly they've improved since Arjen and Lori left. They were heavier, Marcella had a much more powerful voice than I remembered, the songs seemed better crafted. All round, they've developed into a much more interesting band. The taped vocal harmonies were intrusive and annoying, but that aside, it was a very strong performance. I hadn't heard of Draconian until a few weeks before the festival, but I quite liked what I heard. That was reflected in their live performance, which was heavy and doom-laden. Normally, that would not be a recommendation in my book, but they managed to pull it off well. The songs were well crafted and well performed, and the taped backing vocals were the only negative point for me.
I'd quite liked the Visions Of Atlantis tracks that I'd heard before, but wasn't really familiar with their material. Further, they'd acquired a different singer since they recorded the tracks that I'd heard. Somewhat surprisingly, there was no bass player, so the entire set was played along to a backing track. Although they featured both male and female vocalists, there was no beauty and the beast to be seen, with clean vocals from both. She was great at times, but slightly out of tune at others. Mostly, though, the songs were just too lightweight for my tastes, and I'd have preferred something with a bit more bite.
Therion were one of the main draws that persuaded me to make the trip to Belgium this year, and they didn't disappoint. Thomas Vikström wasn't able to make this show, so the male vocals were solely handled by Snowy Shaw. Although he coped admirably, they definitely could have done Thomas on stage. His daughter Linnea still doesn't look entirely at ease on stage, but she's getting there and with a bit more stage time will probably do just fine. Lori's voice was flawless, as it always seems to be. The set list was both a bit longer and a bit more aggressive than at Bloodstock, both of which were an improvement. I still don't understand why my favourite Therion song, "Typhon", always fails to make an impact when performed live, but that was once more the case here. Highlights were "Lemuria", "Clavicula nox" and "The perennial Sophia". I would have liked to have seen more material from "Gothic kabbalah" and "Sitra ahra", but that's a minor complaint about what was again a strong performance from the band.
So all in all, not a bad experience for my first MFVF. With travel and accomodation, it turned into a relatively expensive weekend, so I don't think it'll become an annual trip for me. But if the lineup's right, I'd definitely consider returning.