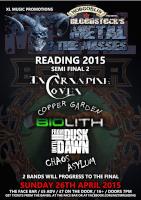 Chaos Asylum played heavy hard rock. On paper, that should be my sort of thing. The problem was, they didn't play it very well. The guitar had way too much distortion, which yes, gives a crunchy sound, but it ended up just buzzing and sounding bad. The guitar solos sounded flat. Was the guitar out of tune? Was he just playing the wrong notes? I don't know. But it wasn't pleasant. The bass player's backing vocals were better than the lead singer's vocals. The mix was poor, and the overall effect wasn't what I was hoping for. From Dusk Until Dawn, on the other hand, were much better. The twin vocal approach looked worrying and sure enough, they played modern shouty metal, with a few clean parts. But the thing is, even though it's not my sort of thing at all, they were pretty good with it and put on an engaging performance, with some occasionally noteworth guitar work thrown in.
Biolith, on the other hand, were almost comedically bad. The music itself was fine. Thrashy metal. But the death growls were so poor and so unintelligible that they essentially turned into another instrument and it became a set of instrumentals. Sadly, not a particularly inspiring one. Copper Garden were much better, playing what I guess could be described as southern boogie rock. Good performances all round from a tight band playing to an appreciative audience. My band of the night. I'd primarily come to see Incarnadine Coven. I like my female fronted metal, and they're a band I'd almost seen of several occasions, but it had never quite happened. They weren't exactly what I was expecting. Sure, there was the standard symphonic metal with operatic vocals over the top. But at other times, there was an almost folk metal feel, with Gregorian style chants, which made for an interesting mix.
At the end of the night, Copper Garden and Incarnadine Coven were chosen to progress through to the final in a couple of months, which marks the first time in a very long while that I've agreed with the M2TM judging!