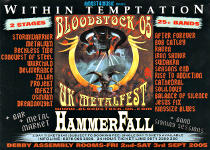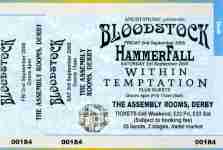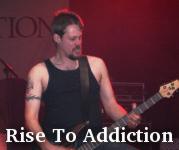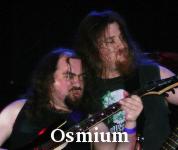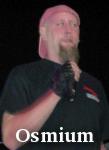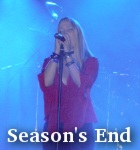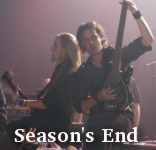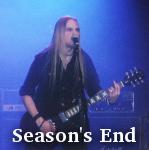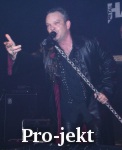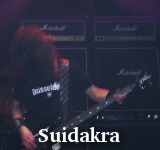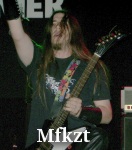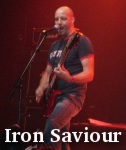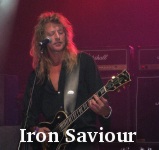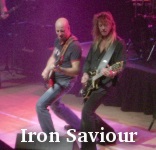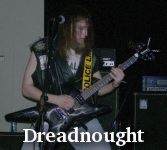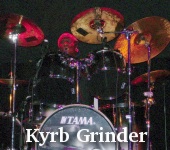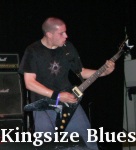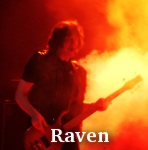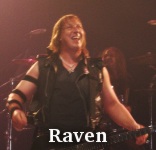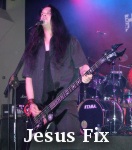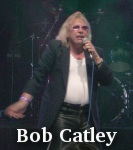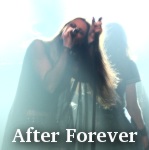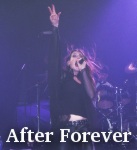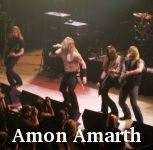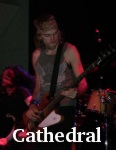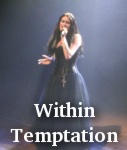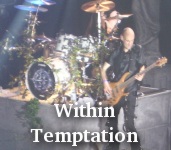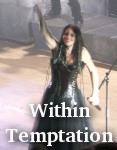 Saturday saw Rise To Addiction given the daunting task of opening up the day's proceedings on the main stage, and they proved themselves to be more than up to the task. New vocalist Leigh Oates (formerly of Ninedenine, who played Bloodstock in 2003) is a huge improvement, and with the current lineup, the band have all the ingredients necessary to make a big impact. They took the rather brave step of avoiding playing any Blaze songs, choosing instead to concentrate on their own material. Such is the quality of the band that it didn't matter, and even the new material that was unfamiliar to the audience went down well. The highlight was "Falling as one", and I'm expecting big things from this band in the future. Osmium were a decent trad/power metal band. Despite the vocalist wearing a backwards cap on stage, and looking somewhat out of place, he turned out to have a decent voice, which combined with some strong guitar work and good songwriting made for an enjoyable set. Season's End are one of my favourite bands at the moment. They're gathering themselves quite a reasonable fanbase, and based on this performance, it's not hard to see why. Today we were treated not only to new arrangements of "Nothing after all" and "Touch", but also a couple of new tracks. We even got some pyrotechnics. My only negative comment would be that Becki's headbanging looked forced, as if she'd been told she ought to do it to fit in with the image of the band, but wasn't really comfortable doing so. This was probably exaggerated by being next to Dave Stanton on guitar, who looks every inch the natural born rock god on stage. The standout track was once again "A ghost in my emotion", but once again, the whole set was very impressive. Pro-jekt were always going to struggle at Bloodstock, being somewhat different from the mainstream metal that most of the crowd were looking for. This wasn't helped by a terrible drum machine. Where the samples should have been crisp and clear, they sounded horribly muted. As one reviewer said, it sounded like it was wrapped in cotton wool. In addition, the bass was all but inaudible. That aside, they've made a decent image for themselves, with the chain link mic stand, and the cobweb effects on the monitors, and they certainly have the songwriting talent to do well. But this wasn't their day, and although I think they were let down by the sound, it was still a decent performance. Suidakra were a fairly generic thrash band. Nothing to write home about, and nothing particularly memorable, either, save the need for some clean vocals here and there. Mfkzt. Oh dear. Yes, a festival has to cater to all tastes, and they're obviously not mine, but I struggle to see the value in bands like this. It's just mindless noise, without any apparent redeeming features, in that respect much like Bumsnogger from 2003's festival.
Iron Saviour are one of those bands that I've been aware of for a while, but don't own any of their studio output. On the evidence of this performance, that will soon be remedied. The band are extremely accomplished, and with a selection of decent songs to call upon, they put on a great performance, better than would be suggested by the few tracks I've heard before. Highlights were "Crimson red" and "Battering ram". It's hard to believe that the band were nervous about performing here in front of a native English speaking audience. They needn't have worried. Dreadnought were a so so thrash band. Like Suidakra, they were a bit bland, and not very memorable. Kyrb Grinder were something of a surprise. Kingsize Blues were apparently stuck in traffic and late getting to the venue, so despite not being listed on the bill, Kyrb Grinder were given a brief slot to take up the slack. A three peice, featuring the drummer from Threshold, who was also the singer, and notable for being black, a fact he joked about on stage "A strange thing happened to me at Bloodstock today -- I saw a black dude!". It's true that it's somewhat of a rarity in the metal world. All three turned out to be very accomplished musicians, and although their music wasn't exactly to my tastes, it was interesting enough. Kind of a high speed blues. Kingsize Blues, when they finally turned up, proved to be a bit of a let down. Although they were heavy enough, there was little trace of blues anywhere, and the vocalist was crap. I'd have preferred a full length set by Kyrb Grinder, to be honest. Raven were this year's NWOBHM band. What can I say? They're utterly mad. I've rarely seen a band with as much energy on stage, let alone one that's 25 years into their career. This isn't a reunion gig, either. Unlike some of their contemporaries, Raven trudged on through the lean years of the 1990s, and here they are at Bloodstock, still with a sound that's recognisable as stemming from the NWOBHM, yet still fresh and modern sounding. A welcome surprise. Jesus Fix, like Pro-jekt, were always going to find a performance at Bloodstock tricky. A goth metal three peice, with the emphasis tending a bit more to the goth than the metal, they have the virtue of hailing from Whitstable, a town where I used to live. But that aside, I felt they did well here, and I enjoyed their set quite a bit. They also win this year's best on stage quote award. When the drummer screwed up one of the songs, the vocalist quipped that he knew he should have just brought the drum machine instead. Jesus Fix were sufficiently good that I stayed in the Darwin Suite to catch the end of their set, and thus only got to catch the end of Bob Catley's acoustic set. There was decent musicianship, and of course Bob's great voice, but nothing to set the world on fire.
Balance Of Silence were the only band I missed on the Saturday, due to scheduling conflicts between the two stages. After Forever put on a good performance. Floor obviously has a great voice, which she put to good effect tonight. However, as with their studio output, I just feel that the band are somewhat lacking in the songwriting department, particularly since Mark Jansen's departure. They're obviously very accomplished and experienced live performers, though, and put on a good show including the festival's second cover of Maiden's "The evil that men do". Like Osmium, Soliloquy were another of the festival's surprise hits. I'd heard nothing from either band before this weekend, and both managed to impress me greatly. They played a fairly straightforward trad/prog metal set, featuring some good songwriting, and strong vocals. Amon Amarth played a viking metal set, and obviously have a lot of fans. I'm not really one of them, though. The music's reasonable enough, but the vocals really need to be more intelligible, and I wasn't overly impressed. They were, however, significantly better than Cathedral, who were headlining the Darwin stage. Quite how the band have garnered such a large following is a mystery, as their performance here really doesn't justify it. Just plain dull. The headliners, then, were Within Temptation. They'd put on a good showing at The Scala last year, although if I had one complaint it was that they didn't rock enough. That seemed to have been remedied tonight, and they put on another good performance. They obviously relish the large venues, and made full use of it with a large stage set. The set was heavily biased towards their latest album, "The silent force", particularly for the first 45 minutes or so, and I feel they'd have done better by mixing the tracks in a bit better. The video projections were also out of sync with what the band were playing, which didn't help. Highlights were "Stand my ground", "Running up that hill", and "Jillian". For the encore, we were treated to excellent renditions of "Deceiver of fools" and "Ice queen".
Another great festival from the Bloodstock organisers, then. Bands of the weekend were Hammerfall on the Friday and Season's End on the Saturday. Strong showings too from Rise To Addiction and the big name European bands, and also from Osmium and Soliloquy, two bands that I'll be looking out for in the future.