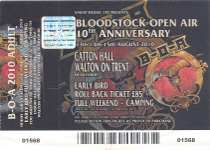 Snakebite opened the day up, and were musically quite good, but the overall effect was ruined by the terrible vocals. I headed to the second stage to catch Under Blackened Skies. I'm not really sure how you've describe the genre. Blackened thrash? Blackened death, maybe. Either way, although not my normal cup of tea, I thought they put on a decent enough show. Back on the main stage, Black Spiders were playing some decent if uninspired dirty souther rock. Lordaeron provided the first glimpse of Bloodstock's annual truly terrible band. Comedically bad vocals consisting of bestial grunts rendered the music entirely incidental.
I never got to see Ross The Boss with Manowar. He'd left the band a few months before I first saw them 20 something years ago. Given that Manowar were out of the running for a Bloodstock appearance for several reasons, Ross's solo band was the next best thing. Despite the Manowar heritage, his own material is actually quite strong in its own right, and "Blood of knives" showed that well. But it was the Manowar tracks that most of the crowd wanted to see (particuarly given the appearance on stage of former Manowar drummer Scott Columbus), and we weren't disappointed, with performances of "Thor", "Fighting the world" and "Hail and kill". A cover of "Catch the rainbow" in tribute to Dio showed that while he may not be Eric Adams, vocalist Patrick Fuchs has a great voice.
Grieve were another band with crap vocals, but despite that, they weren't too bad. Rage's last performance at The Underworld had been outstanding, and I had high hopes that they'd be able to repeat that here. I wasn't disappointed. They really are a band on top form right now, and in the best tradition of Motörhead, they made an enormous amount of noise for just the three of them. Highlights were the obligatory "Higher than the sky", "Down" and a spine tingling "Empty hollow". A great performance from a great band. More crap vocals followed from Morgue Orgy, but the music was melodic enough in places to made up for that somewhat.
Ensiferum are capable of putting on a great live show. This wasn't one of them, however. They were simply too variable. When they were good, they were great. But they weren't consistently good throughout the set. There were highlights in the form of "Guardians of time" and "Iron", but they've been better. Tempestora played straight ahead, no frills thrash. towards the end of their set, they asked "Does anyone know any Metallica? Well get up here then". A presumably random stranger got up on the stage, and proceeded to sing the vocals for their cover of "For whom the bell tolls". He did surprisingly well at it, too! On the Jägermeister stage, Rage's Victor Smolski was giving a guitar clinic, showing some of his guitar techniques. He played probably his best know song, "Unity" from the Rage album of the same name. He's an astounding guitarist, and made everything look so effortless.
Cathedral hadn't impressed when I'd last seen them. Today they were much better, but still didn't really do enough to be engaging. Their sound was very bass heavy. I don't know whether that was just how they wanted to sound or whether they were suffering from a bad mix. As a fan of female fronted metal, I'd been looking forward to Splintered Soul. She had a good voice, but it sometimes veered towards being too screechy. The band had too much reliance on backing tracks and I think it detracted from the show. Overall, they were a bit too proggy for me, and suffered from poor songwriting. Gorgoroth were a strange sight in the middle of the day, but realistically, their brand of black metal simply isn't popular enough to warrant a later slot on the bill. Musically, they weren't bad, but I didn't get on with the screeching vocals. They were also somewhat relentless. I like my music to have a bit of what used to be called light and shade. Gorgoroth were turned up to 11 all the time, for the duration of their set.
Collapse took to the stage with an epic choral intro leading into a Churchill speech. They're a decent bunch of musicians, and there's the essence of a really good band there. But for me, Duncan's trying too hard to sound brutal with his vocals. He could do with toning it down just a bit. He was also failing as a frontman, in that he was very rarely at the front of the stage. I later found out that was due to a mic failure, and the replacement wired mic didn't have a long enough lead for him to reach the front! As expected, the set highlight was the cover of Judas Priest's "Between the hammer and the anvil". Steelwing were spandex clad power metal. On paper, that should have been a great idea, but they suffered from having a diabolical mix, and it's hard to perform well under circumstances like that. The sound improved later in the set, but it was too little, too late by then.
Sonata Arctica have put on some great shows in the past, even if their previous Bloodstock outing was something of a disaster. But I haven't been impressed with their recent albums, and today's setlist was quite heavily biased in that direction, which wasn't what I wanted to hear from them, a sentiment I believe was shared by the bulk of the audience. If there was a highlight, it was "Don't say a word". Betraeus put on a decent acoustic performance including covers of "Another brick in the wall, part 2", "Play that funky music" and an Opeth song that I didn't recognise. It's a shame I missed their full electric set earlier in the day. Enforcer provided some good power metal on the Sophie stage, and were much better than their showing at Sonisphere. Meshuggah are a massively overhyped band, but I've never really got them. Today's efforts resulted in a wall of tuneless noise.
Powerwolf were headlining the Sophie stage, and it's easy to see why. They were a little slow to get started, but once they got into their stride, it all fell into place and they put on an excellent, theatrical performance. They seemed to be genuinely surprised by the enthusiastic crowd reaction. Highlights were "Kiss of the cobra king" and "Moscow after dark". That just left Opeth to finish off the day. They were drafted in as a replacement for Heaven And Hell, and given their terrible performance last time around, I felt it was a very weak choice. They were slightly better this time, but still performed a set consisting mostly of tuneless droning rubbish, interspersed with occasional musical bursts. The only high spot was another tribute to Ronnie James Dio in the form of "Catch the rainbow". Mikael Åkerfeldt introduced it with "I can't really sing and I'm going to sing a song by one of the greatest singers of all time. Bear with me if I sing like shit, you can always go home and listen to the original because that's going to be better anyway." Despite his protestations, he actually did quite a decent job. But it wasn't enough to rescue an otherwise poor performance.