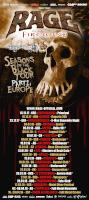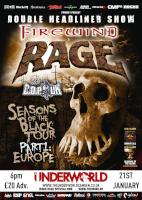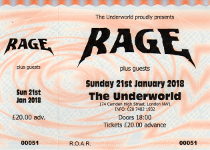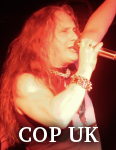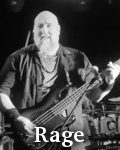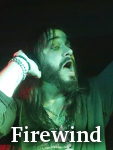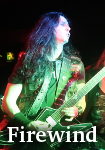 COP UK were much like the last time I saw them. On paper, they should do well. They have most of the right ingredients in place. But somehow it just doesn't work, and they leave me cold with their brand of melodic metal. Admittedly, they weren't helped by a poor mix, but event allowing for that and even a set closing cover of Journey's "Separate ways", they failed to win me over.
Although the tour was nominally a co-headlining one, this show was billed as a Rage show, However, on the night, Rage followed the opener, leaving Firewind to end the night. The band were clearly not firing on all cylinders. Peavey had a fever and a cough and was struggling to sing. But he'd made the decision to play rather than cancel the show and I'm very glad he did. I suspect the running order was switched on the night because of concerns over Peavey's ability to make it through the whole set. That was helped somewhat by Marcos took over vocal duties for a few of the songs in order to give Peavey's voice a rest. In the end, the set was cut slightly short, but not by much. And it didn't matter. It's a measure of how good a live act they are these days that even with Peavey suffering, the band put on another very strong performance. Highlights for me were "Great old ones", and the obligatory "Higher than the sky" to close the set, featuring extended snippets of both Sabbath's "Heaven and hell" and Dio's "Holy diver", with Marcos once again doing a remarkable impersonation of the man himself.
Last year, Firewind had put on an outstanding show in the same venue, and I was optimistic of another good showing here. I was slightly concerned about whether they'd be able to follow Rage's fantastic performance, but I needn't have worried. Henning Basse is without doubt the best frontman the band have had, and he showed it again tonight. There was perhaps slightly more emphasis on Gus's guitar work than at previous Firewind shows, but as a fan of guitar wankery, that's a good thing in my book. Notable tracks here were "Head up high", "World on fire", "The fire and the fury" and ending the night with "Falling to pieces". At the end of the night, we'd been treated to two strong sets from two bands in their prime. A great night overall.