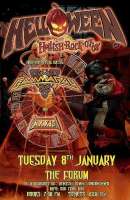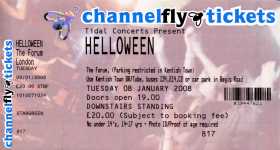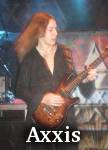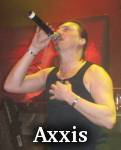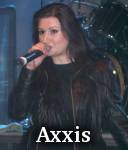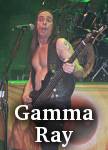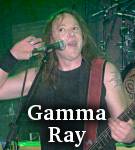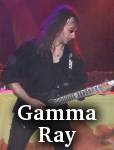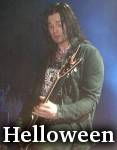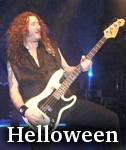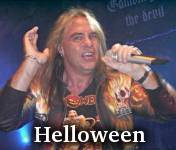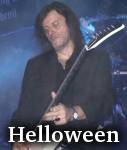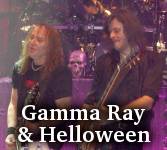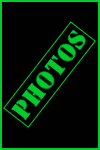 Axxis were pretty decent the last time I'd seen them, so I was hopeful for more of the same. Once again, they put on a decent show, but perhaps not quite as strong as before. This time, they had Ana Mladinovici from Magica adding some female vocals, which seemed to work well. Lead singer Bernhard Weiß had plenty of... unconventional movement on stage. Dave Ling described it as "embarassing dad dancing", which is pretty apt. A reasonable set, but nothing outstanding.
Gamma Ray had put on some stunning shows in the past, so I was hoping for good things. Sadly, this wasn't to be one of them. I had no complaints about the setlist, but from my position at the front, I simply couldn't hear Kai's vocals, and the whole sound overall was muddy. That's not to say there weren't highlights -- "New world order" and "Valley of the kings" were both good, and the inclusion of "Ride the sky" before the obligatory "Somewhere out in space" was a nice touch. But they've definitely been better in the past.
As for Helloween? They've been living on past glories for a while now, but with each album and each live tour, they've done just enough to stay relevant in my eyes. Although I hadn't heard it before the show, I'd heard from others that their new album was much stronger, and the tracks they played tonight seemed to bear that out. The stage was dressed as a near identical copy of the cover of that album. Unsurprisingly, the Kiske-era material went down best with the crowd, but "If I could fly" and "King for 1000 years" were both good. There was also a bizarre section where Dani's drum solo was interrupted by Deris, Gerstner and Grosskopf dressed as dwarves in a Punch and Judy style booth. They said he was all well and good, but he couldn't play music. He proceeded to prove them wrong by playing "Smoke on the water" on his drums, which triggered the three of them to do the same, with Deris singing though a squeaky voice effects box, until Weike returned to the stage with a toy machine gun, and shot them, allowing the drum solo to continue. Strange. That said, despite some high points, this was not an outstanding show by any means.
So with all three bands performing at levels below what I know they're capable of, it wasn't looking like a great evening. But the ending was to change all that. The first encore saw a medley consisting of "I can", "Where the rain grows", "Perfect gentleman", "Power" and "Keeper of the seven keys". I'm not generally a huge fan of medleys, but in this case, each part of it was head and shoulders above what had been played in the main set. And then came the second encore, which saw Kai Hanson and the rest of Gamma Ray return to the stage to play "Future world" and "I want out" alongside Helloween, which was simply stunning. Ultimately, then, a great end to a less than fulfilling evening.