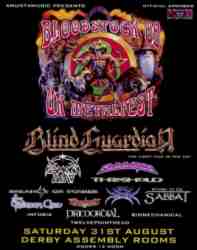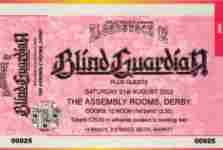 Another year, another Bloodstock. Last year's event was one of the highlights of 2001, primarily due to an out of this world performance by Primal Fear. Would this year's show be able to compete? It didn't get off to a good start. I arrived in Derby in plenty of time, but the car parks were all either full, or closed early in the evening. By the time I finally parked and made it into the venue, I'd missed Infobia's set, and Biomechanical had just started theirs. Sadly, it wasn't really my thing. Too much noise, and not enough melody. I'd never heard Twelvepointhead before, and from the name, I was half expecting a Kerrang! wannabe band, but in actual fact they weren't bad, if somewhat unmemorable. The first band to impress on the day, then, were Freedom Call. Having seen them twice before, I knew what to expect, and they didn't disappoint, playing probably their strongest show to date. Absolutely outstanding, and a reminder to all of what heavy metal should be all about. Cheesy? Perhaps, but no one in Derby seemed to care, and rightly so. My only complaint is that once again, they closed the set with "Hymn to the brave". I've always felt this to be a bit lacklustre, and they'd be better off ending with a more uptempo track, such as "We are one".
This year, at least, they seemed to have staggered the bands, so it was possible to alternate between both stages, and get to see all the bands. At least, that was the theory. For unknown reasons, Freedom Call's set started late, which threw it all out of kilter, so from there on, I had to juggle bands, seeing part sets of each. I saw Enemymaker 888 when they were still called Rainmaker 888 (no, I don't know the reason for the change). I caught the last few songs of their set here, and I'd remembered them as being better last time. Today, they were just noisy. Balance Of Power, on the other hand, were the complete opposite. Very melodic, but somehow lacking in any stage presence, and unable to provoke any significant reaction in the crowd (in stark contrast to Freedom Call). Primordial were billed as an Irish black metal band, and while they certainly looked the part, and are definitely in the extreme metal camp, I don't know if I'd call them black metal. They didn't quite have the epic qualities that I usually associate with black metal. Still, they were quite reasonable nonetheless. I'd never heard of Threshold before, and was pleasantly surprised. They put on a strong show, and I came away impressed. Elvenking's vocalist, Damnagoras, had quit the band the week before the show for medical reasons. Rather than cancel their appearance, Martin Walkyier had stepped in at the last minute, and they performed a set of Skyclad covers. I only caught the last couple of songs, but they seemed pretty good. I felt their album was a bit lacking in the vocal department, so it'll be interesting to see what they're like with his full time replacement.
Diamond Head were next on the main stage. I was hoping for good things from them, but sadly, they didn't deliver, and I left part way through their set to catch Bal Sagoth. Apparently, they improved in the second half of their set, and included an excellent verions of the obligatory "Am I evil". I, however, was watching Byron and co. on the other stage. Bal Sagoth are an epic band by any definition of the word. As the "Black dragons soar..." intro music played, the band stode majestically onto the stage, and it looked promising. However, that was all ruined somewhat when Byron arrived wearing a baseball cap and padded jacket. Come on... we expect loincloths and longswords, not someone looking like a Manchester car thief! Musically, they were excellent, but sadly Byron's voice leaves something to be desired when performing live. He was just resorting to shouting, and might as well have been in Slipknot.
Gamma Ray put on another strong performance, albeit hampered by poor sound. The standout song was "Valley of the kings", and although I was slightly disappointed not to hear "Short as hell", it was another strong showing. I do feel that they could potentially play a shorter version of "Somewhere out in space" to leave room for an extra Helloween-era track, but that doesn't detract from the fact that Gamma Ray put on a textbook performance of how to play power metal. Great stuff. I hadn't been particularly impressed with Sabbat the first time round, but a decade or so seems to have improved things, and they're much better than when I saw them supporting Manowar all those years ago. Finally, it was time for Blind Guardian's set. It was everything I hoped it would be, and they were stunning throughout. It's hard to pick out particular highlights, but for me, "Lord of the rings", "Time stands still", "Mordred's song" and "Imaginations" were all superb. Hansi's voice sounds just as good live as it does in the studio, and the rest of the band were on top form too. A great end to a great day. Band of the day was very close, but I think Blind Guardian probably just edged out Freedom Call, with Gamma Ray and Threshold following closely behind. I look forward to next year...