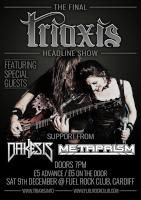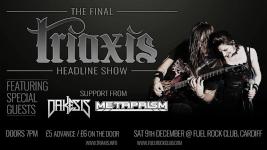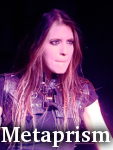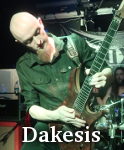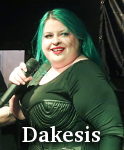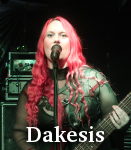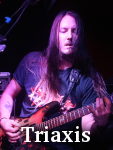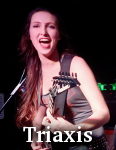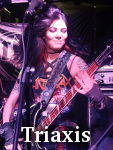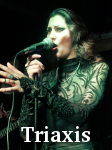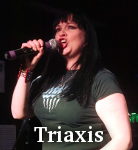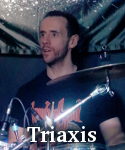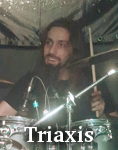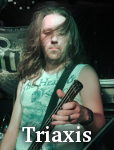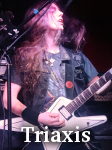 Metaprism are a band that just seem to get better and better. There was no messing around here, just straight into the swing of things, firing on all cylinders right from the very first notes of the set opener, "Reload". This was arguably the best I've seen them. It's just a shame that they didn't get a longer set. Highlights for me were "Nebula" and "Lost in the dark". Also notable was the inclusion of a new track, "Unleash the fire", which bodes very well for the next album.
Dakesis are one of my favourite bands at the moment, on the back of a superb second album and a string of fantastic live performances. Tonight started very will, with "The new dawn" and "The great insurrection" delivering on every level. It did drop off towards the end of the set, though. I think that's the first time in the many times I've seen them that I've seen Gemma hit a bum note, and the last few songs just didn't seem as strong as they have been at their other shows. Dakesis on an off night are still better than the majority of other bands out there, but this was not them at their best.
So on to Triaxis. What can I say about this band that I haven't already said? For nearly a decade they've been my favourite band, and I've travelled all over the place to see them. But it's all coming to an end. This was their final headline show before they call it a day. I've been to see their Christmas show at Fuel for each of the last few years, and there's no way I was going to miss this one, not only because of the significance of it, but also because of the promised appearances. So it was that we were treated to performances from not only the current band, but former members Owen Crawford, CJ Wilson, Giles Wilson and Krissie Kirby. An extra long setlist meant there was time for plenty of material (even if they still missed out a couple that I'd like to have seen). Everyone was on form, throughout the whole show, despite some dire warnings beforehand from former members grumbling about being rusty. If so, it really didn't show. Tonight's highlights were many; "End of time", "Lies", "Stand your ground" and the three covers, namely Queen's "The show must go on" featuring both Krissie and Angel and Iron Maiden's "Wasted years" and "The trooper" which also featured Gemma and Amie from Dakesis and Theresa from Metaprism. If you have to go, then going out on a high like this is the best you can hope to achieve.